Well, that's what Mr Sabs calls it anyway...
I love this stuff. L.O.V.E. I could wear it all year round. It's so soft and warm and touchy-feely!
I saved a bit of the black cord left over from my pinafore dress as I wanted to make a work appropriate skirt for the winter. And as I already had the New Look 6843 pattern, I thought it was bound to be a win win situation. And it was!
The first skirt I made with this pattern (the
mustard one
) is a little bit bigger than I wanted, though I regularly wear it for work, so this time I cut the smallest size (which was a whole two sizes smaller than the first attempt) It was a close shave, as it only just fits! As before, I added pockets using instructions from the Kelly skirt pattern and lined them with an old grey shirt of my hubby's that needed chucking out. Underarm sweat patches that won't come out in the wash are not a good look, darling...
My new best friend was indispensable for my skirt - look, just look, at how neat my invisible zip is! Woo hoo, I did it, success at last!
The button on the back is actually a bit of a cheat - I couldn't be bothered to make a buttonhole so I used a popper and sewed a button on the front. Shh, don't tell no-one, or you'll be sleeping with the horses. Or perhaps that should be frozen "beef" lasagne...


Anyway, onwards and upwards to my next make. I didn't get round to making the NL6808 last weekend like I had planned and then I saw that
Pattern Review
have got a Fitted Blouse contest this month so I've decided to enter it in that!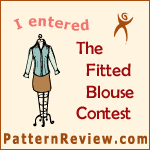 I'll put photos up with a link to the contest once I'm done - please vote for me!